From Tuesday to Thursday this week there were once again violent clashes erupting between different groups inside of Moria camp. According to local news 15 people needed treatment in the hospital. As far as we know at least some of them were innocent bystanders. Furthermore several tents burned, leaving innocent people without shelter. We are still waiting for news if the injured will recover. The rumors that three people died in the hospital is not officially confirmed nor denied yet.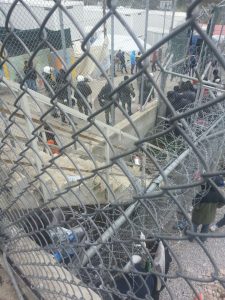 A huge police raid on Thursday followed this violence. Riot cops swarmed the camp and arrested several dozens people. Targeted were refugees with the second rejection on their asylum claim. Many arrested were brought to prison. We condemn this police action and we expect and fear that many will be held in prison until being forcefully deported back to into a horrible Turkish detention center.
It is time that the government takes responsibility. They create the conditions that fuel the recurring violence that every time endangers innocent people and gets families, children and other bystanders injured.
It is time to open the islands.
Stop deportations and freedom of movement for all!