2018 and things haven't changed, Europes borders keep being as deadly as in the previous years.
So far this year, 2160 people have lost their lives in the Mediterranean Sea – 2 weeks ago, it was 2063. The emergency is still on. It's time to react.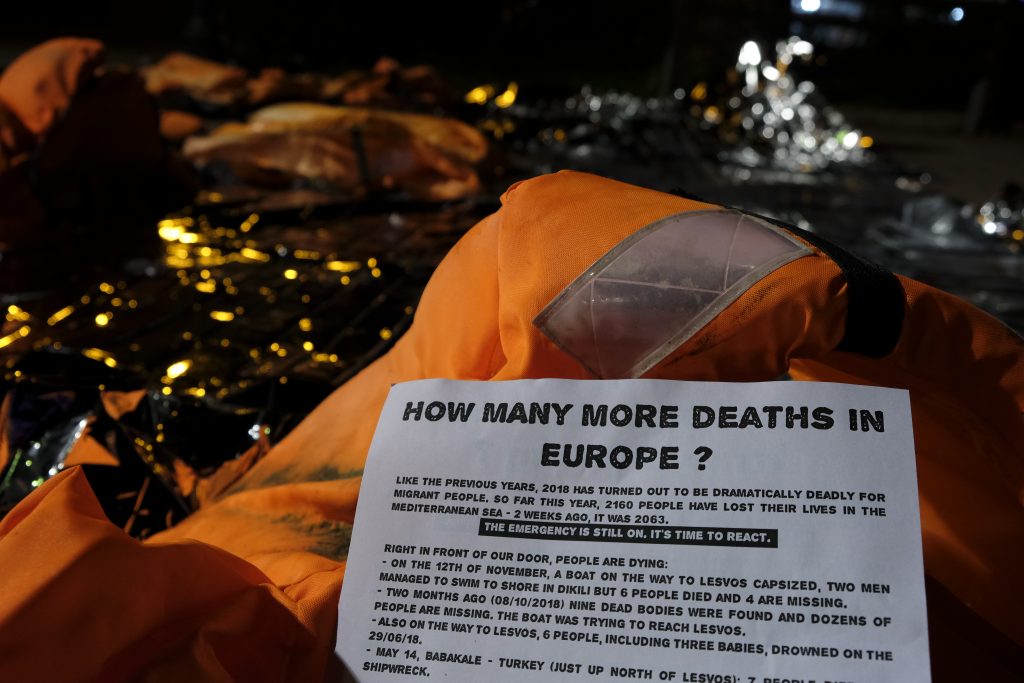 Right in front of our door, people are dying:
just some examples…
– On the 12th of November, a boat on the way to Lesvos capsized, two men managed to swim to shore in Dikili but 6 people died and 4 are missing.
– Two months ago (08/10/2018) nine dead bodies were found and dozens of people are missing. The boat was trying to reach Lesvos.
– Also on the way to Lesvos, 6 people, including three babies, drowned on the 29/06/18. – May 14, Babakale
– Turkey (just up north of Lesvos): 7 people died in a shipwreck.
This tragedy isn't an accident, this is the result of European migration policies, set up since the Schengen deal in 1985. Strengthening borders and tracking and deporting people stops them from entering Europe legally, and forces them to use perilous routes instead.
The European Fortress also set up policies to externalize the borders and repel as much as possible. The EU injects millions of euros into projects to prevent migration into European territory, no matter if it supports dictatorial regimes. Indeed, on the 35 « priority countries » for the externalization of borders, all are known for abusing human rights and half of these countries have an authoritarian or dictatorial government.
It's time to understand that the more money Europe give to train and equip armies from Turkey, Libya, Sudan…, the more people will try to flee those countries. For those who survived a dangerous journey and finally arrived to Lesvos, the island becomes not a place to find safety but even worse, a place to slowly die. Lesvos is a prison for them, as they can't go forward because of European policy, and can't go back to their country of origin, because they would be persecuted, enslaved or killed. We stand in solidarity with migrants everyday, not only when UN celebrates the « International Day of Human Rights ».
– Stop spending millions to kill people
– Stop supporting dictatorial governments
– Stop Dublin Regulations – Stop deportation
– Stop concentrating people in hotspots