Another State Sponsored Murder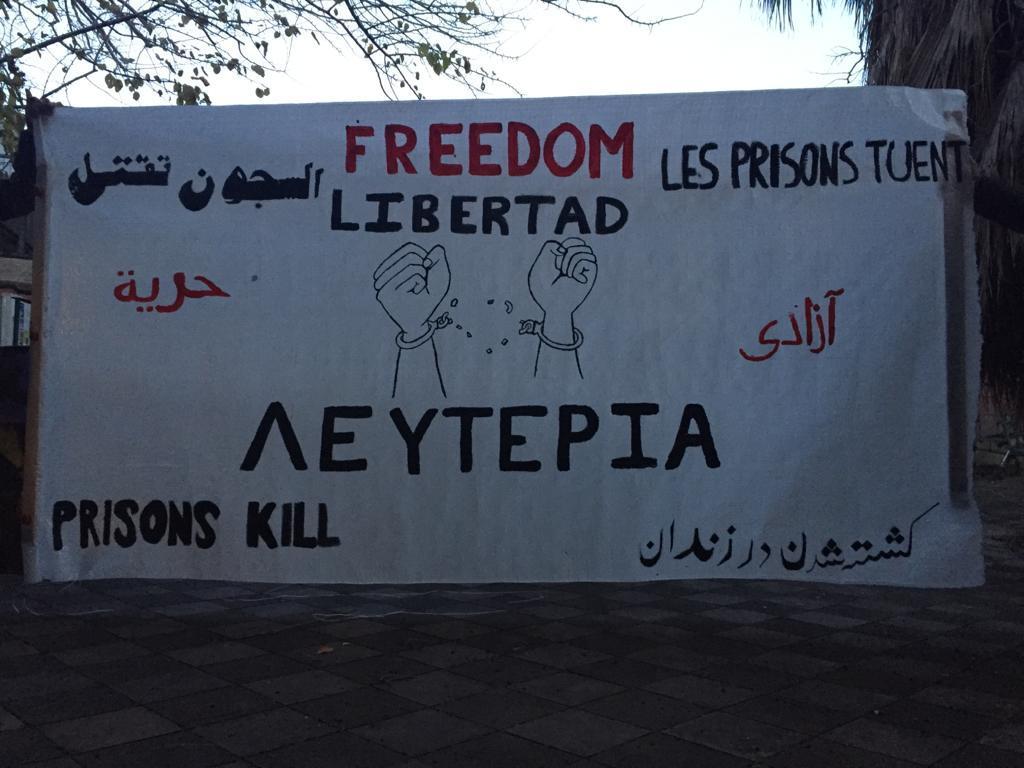 Even at this time of year in Lesvos, when every day seems to bring new levels of cruelty, sometimes things happen that are so sad, and so shameful, that they stop you from what you are doing and stick to you for a long time. Last week, on 6th January, a man was found dead, hung in a cell inside the Pre Removal Detention Centre (PRO.KE.K.A.), the prison inside Moria camp. The last weeks of his life were spent in solitary confinement. Police were aware of his serious mental health issues, and other detainees have reported that he cried during the nights and banged on his door. They never saw anyone visit him, or saw him taken out of his cell for support; his food was served through the window, and if he was allowed outside, it was at a different time than the others. His blood is on the hands of the police, the Greek state and European Union.
We have reported before on the conditions in this prison – that most detained there are arrested immediately upon arrival, for having the misfortune to be of a nationality regarded as suspicious by the authorities, called 'low profile'. Single men from designated countries (mostly African states) are often detained for three months. The new asylum law allows for increasing detention time for up to 36 months.
We have also shared information about the conditions inside the prison, designed to drive migrants to desperation. It operates with little oversight and with no accountability. There, people are held with restricted access to legal, medical or psychological support. The system is designed to keep them afraid and isolated, to grind them down, and demonstrate daily that they are not welcome in Europe, until they submit to their own deportation rather than resist it. Those who fight back against detention and deportation are violently dealt with, and sometimes end up in the hospital.
Legal monitors and prisoners have described prison conditions as amounting to 'inhuman and degrading treatment' – in other words, torture. Psychological and physical abuse is common. People are woken up at random hours of the night using noise and light. They are taken to where there are no cameras and beaten by the police, and beaten by the police while in handcuffs. But when visits are prohibited, and access to phones extremely restricted, reporting abuses is practically impossible. And many fear retaliation by the police and do not trust government or official organisations because they see abuse continue with no consequences for the police, even though the abuses happen under everyone's eye.
These are the conditions in which the man who died found himself, in December 2019, when he was taken into detention. The prison psychologist working for the state owend organisation AEMY was away over the Christmas holidays, until 3rd January, leaving only two working days in which psychological support could have been provided. KEELPNO, the only other state institution able to make mental health assessments, has publicly declared that it will not intervene in the absence of AEMY staff, not even in emergencies.
It is clear to us that this death is the result of brutal prison conditions, and the failure of multiple state agencies to provide care. And yet once again, nobody has been held to account, and a preventable death is being whitewashed by an "investigation" as a death of natural causes. Migrants are blamed for creating their own dangerous living conditions, and the perpetrators walk freely.
One death is too many.

We call for an independent investigation into the circumstances surrounding the death on 6 January.
We call for the closing of PRO.KE.K.A. and the immediate release of all those detained.
We stand in solidarity with everyone detained in similar circumstances; from the dark cells of Korydallos to Petrou Rally
We call for the demolition of Moria Camp and freedom of movement for all.
The passion of liberty will abolish all prisons.