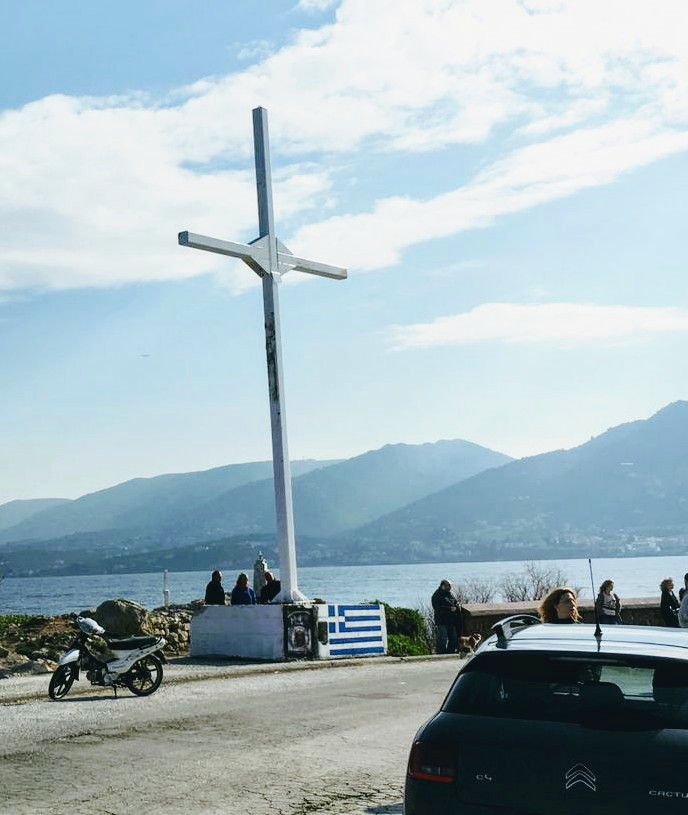 During the night of March 3rd 2019, a mob of around fifty fascists, led by a
Chios fascist, erected a 10m high metallic cross on the rocks of Apelli, Mytilene.
The atmosphere was heated and hostile, and the fascists were pushing each
other with enraged screams.
Immediately after the installation of the cross, thirty-six of them were arrested
and charged with 'arbitrary occupation of public property and erecting an
illegal construction'.
This illegal construction is a provocation. The cross is set at the shore, in an
area protected for archaeological reasons. Boasts arriving in the harbour will
have an immediate view of it.
Apelli is a spot prevalent in the history of Lesvos, being associated with the
executions of Greek civilians by the German Nazis during WWII. Fascists setting
up a sign at the exact spot is simply disgusting. The fascist act of "marking
one's territory" is also just one peak of a series of racist and anti-migrant
events.
In the last years, Apelli became an area where migrants who are stuck on
Lesvos used to spend time and swim regularly. Local fascists were fighting
them away often, and even removed seating facilities to make the space less
comfortable. Simultaneously, paintings of white crosses appeared on several
public places frequented by migrants. They were used to mark the areas as
white and Christian territory.
In the summer of 2018, local fascists set up a 2m high cement cross on the
rocks of Apelli. Thirty-two fascists were subsequently arrested and charged. A
discussion broke out, in which many people and an NGO demanded the
structure be removed by the authorities as it offended migrants and abused a
Christian symbol.
Just one month later, the cross was found destroyed.
The discussion shifted, now focusing on the legitimisation of the destruction of
a Christian symbol. Fascists and conservative Christians aligned. The original
reasons for the erection were pushed out of focus.
On 3rd March 2019, the fascists set up the new, larger cross at the same
location. This time, there has been no public outrage and only brief medial
coverage.
Since then, fascists patrol Apelli day and night. A group of them constantly
guard the cross in fear of another destruction, and new ornamentation,decoration and blessings are constantly added to the cross, now including two
flag poles, a plaque, and various forms of art.
The fascists' actions are accompanied by a public discourse that turns more
and more right wing, spreading hostility against the migrant population.
Fascists succeed in more collusion with the conservative Christian community,
instrumentalising the Christian religion and its various symbols. They
hallucinate that their culture is endangered by migrants coming to the island
across the Aegean. Successfully they distorted and warped the original
discussion of the erection of a fascist symbol with the intention to intimidate
and deter migrants, to a discussion about disrespect in relation to Christianity
and its religious iconography. Apparently, even the illegal construction and
installation of a 10m high structure at an archaeologically protected site is
tolerated by authorities.
Another example is a weekly military circus that happens at Sappho Square. For
years, every Sunday, the military have a celebration, raising the Greek national
flag. Recently, fascists invented a story that migrants were trying to attack the
event. This simply is a lie. It never had any true source or foundation of reality.
But it worked. Since the fake news spread, significantly more conservative
Greeks and fascists are attending the weekly celebration in order to protect
their event, and at the same time "their culture". This is a dangerous
development, especially considering that at the same time migrants are
constantly threatened and attacked by fascists, and that these events do not
get sufficient public attention. A celebration of Nowruz (Persian New Year) on
21st March 2019, which was planned on a beach near to Apelli, could not take
place, for fear of fascist attacks.
Last year in April, migrants protested in Mytilene city centre after an Afghani
died due to lack of medical treatment in Moria Camp [https://noborderkitchenlesvos.noblogs.org/post/2018/04/28/pogrom-night-in-mytilini/]. The
people, among them children, were attacked by two-hundred fascists, who
threw bottles, stones, and fireworks, whilst screaming "burn them alive".
Several people were injured and had to be treated in hospital.
Fascists parade themselves as victims, disguising the fact that they are in fact
the perpetuators. Their lies curry favour with the conservative Greek
population, strengthening and encouraging racists beliefs and attitudes.
We as No Border Kitchen stand in solidarity with the migrants and the anti-
fascists on Lesvos island. With concern, we observe the reinforcing fascist and
anti-migrant atmosphere. With rage, we take to the streets with shouts and chants. With passion, we maintain the work we do, establishing gestures of
solidarity and practically supporting the people on the move.
Fight borders. Fight nations.