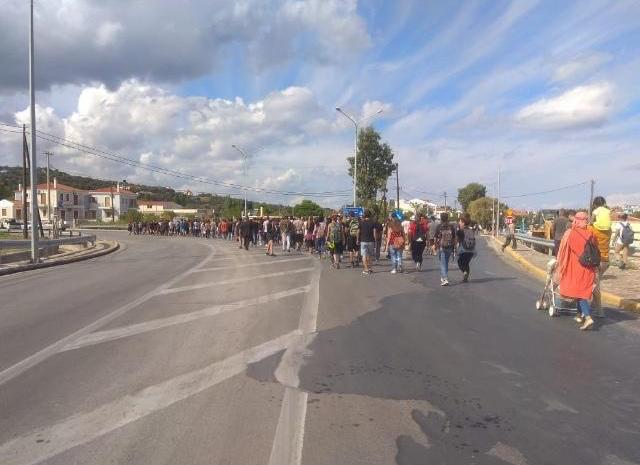 On Sunday 30th September this year, a fire broke out in a housing container in Moria camp, due to a short circuit. One or two people were killed as a result. The police attacked spontaneous protests in the camp with teargas, and didn't hesitate to also shoot teargas in to the quiet living areas of the camp, and the densely populated olive grove.
In response, an antifascist demonstration took place on the next day, with about 200 people taking part. While slightly more than half of the participants were locals, the rest were migrants, among them some of those who have been trapped on the island for years, as it is common practice here. Before the demonstration, police tried to stop people from Moria taking part, by closing the gates of the camp.
The demonstration was held in the streets of Mytilini. The participants demanded the abolition of the camps, freedom of movement for every human being and the destruction of the fascist reality established, mainly, by the member states of the European Union.
After the demonstration a large number of participants gathered to discuss follow up protests.
In response to the police action of closing the camp and making it impossible for people to join the demonstration, a march was organised one week later. The route started at Sappho Square and ended at Moria camp, approximately 8 kilometres away. Under the midday sun, around 200 people took part, carrying the protest up towards the gates of the camp. With chants in Farsi, Greek and English the participants demanded freedom of movement, self-determination, and the abolition of the military-organised detention camps. At first, the police just followed the protest march without interfering. This changed when the demonstration left the busy main road towards Thermi, and turned into the smaller road to the camp. More than one kilometre away from the camp, the road was blocked by police chains which forced the demonstration to stop. It was declared that no further movement in the direction of the camp would be allowed. While calmly discussing how to respond to the cops, the protests blocked the street for about an hour. Afterwards the people decided to return to Mytilini. The march found an end at Ermou (the main shopping street in Mytilini) with a loud rally.
We hope the protests will not be discouraged or frustrated by repression or a lack of visible results, but will continue, and grow into a strong, united struggle.