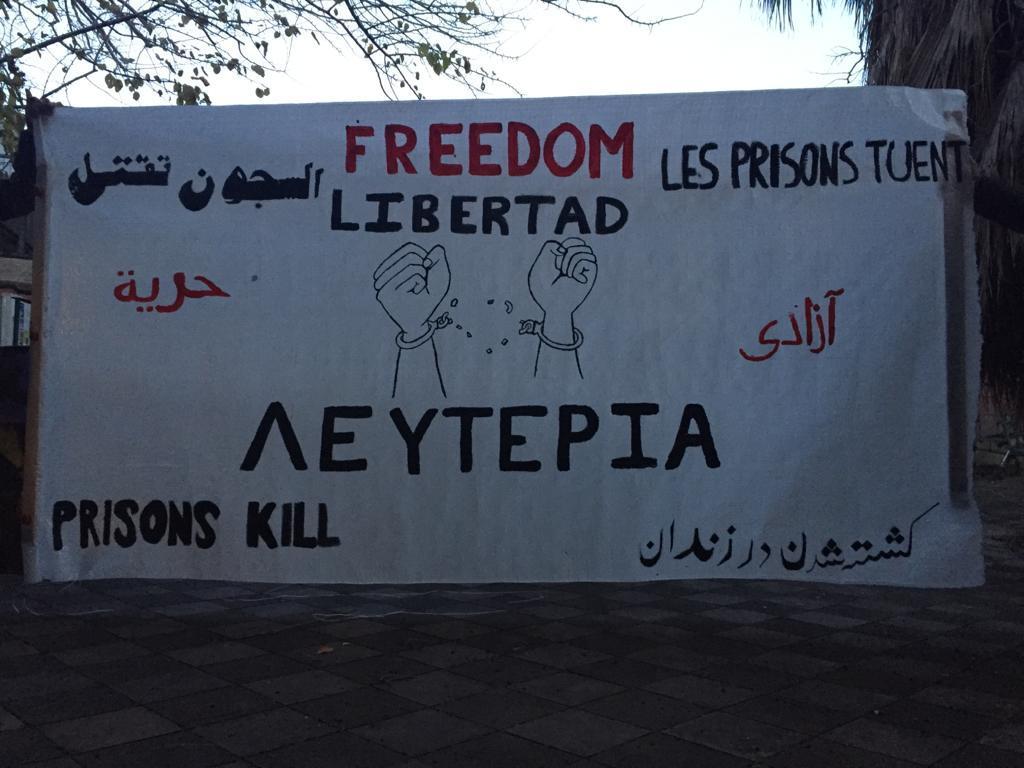 Hunger strike in Moria Prison
Three days ago, on 5th of April, the prisoners in Moria's pre-removal detention centre went on hunger strike, to demand their immediate release.
The cops in the prison responded with ridicule, intimidation and violence: mocking the strikers, conducting a raid, taking people for interrogation, and beating one of them. Four detainees sewed their mouths closed in protest. A doctor was called to come and remove the thread by force.
This is now the second hunger strike within a few days in pre-removal detention centers in Greece. Already on 3rd April detainees in Drama's Paranesti detention camp went on hunger strike after being served inedible food. One detainee reported: "70 riot police entered the camp last night and beat everybody with batons".
These days governments across the world have been releasing people with short sentences from prison, while the Greek state continues to insist that no migrant detainees will be released.
The men here in the prison are held in administrative detention and have committed no crime. They are detained only because of their status. Some because of their nationality, some because their asylum claim was rejected, some because they tried to leave the islands, some even because they signed up for supposed "voluntary return". Many of those with rejected claims haven't even had the opportunity to apply for asylum, because of recent legal changes discriminating against people who don't speak the colonialist language of the country they fled from.
They are awaiting deportation to Turkey, despite there being no deportations scheduled for the foreseeable future.
The situation inside the jail has reached crisis point after the implementation of 'New Democracy's' new asylum laws. Authorities have increased their efforts to reject claims, and carry out deportations. People have been deported despite ongoing asylum cases. They have been deported without ever having set one free foot in Greece.
Those now in prison have no hope. On 6th January a 31-year-old man was found hanged in his cell after being placed in solitary confinement, in an isolated cell. Several suicide attempts have followed this. In one case, a man attempted suicide and was deported the following day. Police violence and harassment continues, and in more than one case has both preceded and followed suicide attempts by those imprisoned.
In Solidarity with the hunger strikers NBK
Free all prisoners in Moria
Shut down the prison and the whole camp
Shut down all detention centers