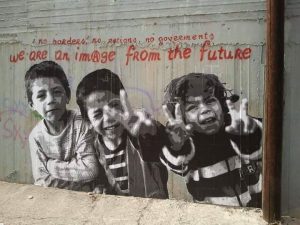 No Border Kitchen Lesvos currently supports 350 refugees to cook and subsist autonomously, at a regular cost of 20 euros per person per month.
We work alongside refugees failed by the broken asylum system and the bloated NGOs, standing with them as they self-organise and live outside the detention regime at Moria prison camp.
But our bank account will run empty this week. Unless we raise at least $7000 in the next two weeks we will have to shut down or reduce our operations, leaving hundreds of vulnerable refugees without access to urgently-needed support.
Please donate and share using the link youcaring.com/nbklesvos.
our fundraiser is now LIVE! Please donate & share!https://t.co/7cFBUfQh2I

✊ Save No Border Kitchen Lesvos — fight for refugee autonomy ✊ pic.twitter.com/cAz7F8QtKv

— NoBorderKitchen (@noborderkitchen) August 7, 2017
HOW you can help us:
no donation is too small, but:
€20 will provide one person with supplies to subsist autonomously for a month!
€80 will supply a family of four!
€160 will supply a group of eight – the most common size of food-box we prepare!
€500 would pay the rent and utilities on our kitchen/warehouse for a month!
You can also support us by organising solidarity parties, gigs or events in your home city. Additionally, every "share" of a crowd-funding page raises an average of €30 – so please post away on your Facebook, Twitter and Instagram!
We would also greatly appreciate regular monthly donations, or you can purchase credit at local food wholesalers to support the local economy – please message the 'No Border Kitchen Lesvos' Facebook page or email noborderkitchen (at) riseup dot net for more information.
If we smash our target together and secure some regular donations, NBK can begin working with the over 300 refugees currently on our waiting list, which is growing every day!
WHAT we need the money for:

Every month we buy 1500kg of flour, 1000kg of rice, 800kg of potatoes, 600kg of onions, 500kg of lentils, 500kg of tinned tomatoes, 480 litres of oil, 400kg of sugar, 32 crates of fresh tomatoes, 32 crates of fresh fruit, 32 crates of fresh vegetables, 320kg of tomato paste, 80kg of tea, 80kg of coffee and 40kg of salt, plus spices and toiletries. We rent a kitchen/warehouse and pay for cars and fuel.
We distribute these supplies to squats, camps, crowded flats and rough sleepers around the island, and also offer hot vegan food each day to all-comers.
WHO we are:
No Border Kitchen Lesvos is a non-hierarchical self-organized group of activists and refugees from all over the world that share the aim of overcoming the borders and restrictions that impede freedom of movement.
Alongside our food distribution, we organise a number of political programmes. Drawing on our network of contacts across the island, in Moria and in detention, we work alongside lawyers and refugee activists to support those at risk of forcible transfer to Turkey or their home countries, resist the border regime, and help refugee comrades to fight for their human rights.
Follow our Facebook ("No Border Kitchen Lesvos") and our Twitter ("@noborderkitchen") for information on an ongoing, brutal wave of deportations and police violence, and for updates on the work your support will enable.
With love and solidarity always
Your NBK crew