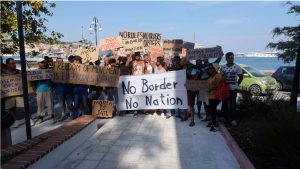 Yesterday on August 20th around 200 people, mainly from Moria camp, gathered in the center of Mytilini to demonstrate against the horrible conditions in Moria and for opening all borders.
Before the demo the organizing refugees called everybody
" to come together without caring about language, skin colour, nationality or religion. We want to come together to fight for human rights, freedom, equality and to fight also against the failing migration and refugee politics of Europe.
Our slogan is: "No rules, no oders, open the borders!"
Moria Camp: To lock everybody up on this island is not going to work anymore. Even now in Moria camp the situation is very bad, there is not even enough water for everybody.
Our slogan is: "Moria is a prison! We need human rights!"
The people walked from the city center to the port and entered the port area. In front of a Frontex ship and the border police in the port their voices became even more powerful.
This impressive and energetic protest against the EU-border politics was not the first in Mytilini and for sure will not be the last one!