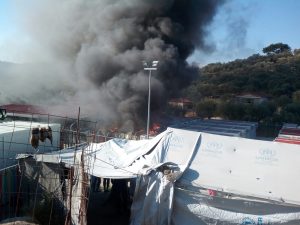 Yesterday some people burned the EASO office inside Moria in protest.
The EASO, the European Asylum Support Office is responsible to process the asylum applications in Lesvos, they are supposed to organize the registrations and interviews of the people. In reality the fail on many levels, Asylum processes on Lesbos are unbearably slow. Some people wait now for 9 months on Lesbos without having given an appointment for an interview.
Yesterday on Monday October 24th hundreds of people in Moria protested against this failure of the European Union. Furthermore they protested against the deportations happening in a regular basis on Lesbos. In the curse of the demonstrations fire was set to the containers or EASO, reportedly after their staff left. According to media reports half of the offices burned completely. The majority of the protester have Pakistani origin, one of the groups that is most affected by deportations.
Later in the day the police started arresting several people they suspected of being involved in the fire. Also they took the search for this people as an excuse to stop and control people according to their nationality not only inside Moria but also in Mytilini city. What they are doing basically is arresting random people they assume are from Pakistan.
While the burning if the EASO office was an act of resistance and freedom the police took this protest to increase Repression once again. We are once again in solidarity with the protesters in Moria camp and everywhere who, literally or not, set Fortress Europe on fire. We believe that the fight for freedom is always stronger than their repression.
Freedom of Movement for all! Make Fortress Europe history!