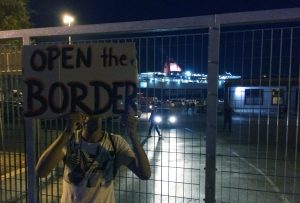 Its October and our protests are still going on! Yesterday we started the second month of the weekly demonstrations against borders and for freedom for all!
As usually we walked through the center of Lesbos capital Mytilini to the port and back to the city. Shouting "Freedom!" "Open the borders" and "Close Moria!", we took the streets against despite the repression the Greek State, with behind it the European Death Machine.
Yesterday we were especially shouting in solidarity with all our friends in prison in Moria, Korinthos and elsewhere. They couldn't be on the demonstration today but they were with us in our hearts and our minds.
The European Union treats refugees and migrants like criminals, putting them in overcrowded and unsanitary camps, beating them and locking them up in prison. Freedom of movement is not something that should be under the control of any goverment or state.
We are fighting against this system of oppression, we are fighting for freedom. And we will not stop until every single person gets their right of freedom of movement, for we are not free until all are free.
Migration is not a crime!
Until everybody is free!