First Flyer in January
Lesvos Statement from NBK regarding the eviction
About the eviction of the camp in Tsamakia, Mytilene
Today at 6 o'clock in the morning Wednesday, April 20, 2016 the camp in Tsamakia of Mytilene was violently evicted by strong police forces. Policemen and undercover cops, in cooperation with the coastguard, invaded the camp and forced the immigrants to enter buses, while undergoing physical and verbal threats, as well as sexist and racist comments.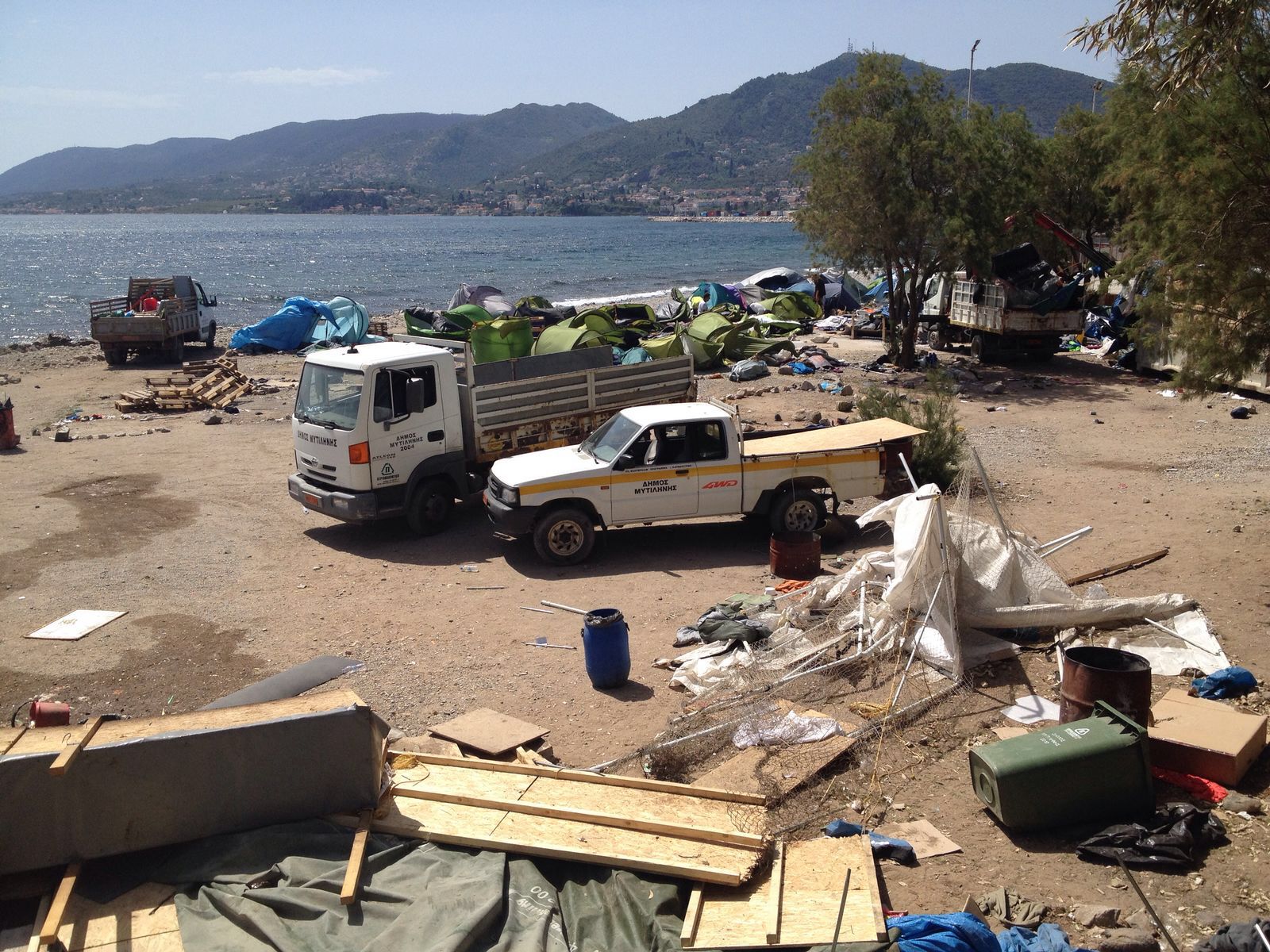 During this violent pogram, the immigrants were not given time to collect their documents and belongings and were not informed about their rights or the destination of the buses. After the eviction of the immigrants, 19 solidarity members were detained without any accusation or explanation and were finally released after being held for 3 hours in the police station. Legal representation was invaluable in mitigating the bullying tactics of the police. During this time, solidarity members were denied permision to care for their pets and all structures and tents were destroyed by the municipality.
During the past 5 months the No Border Kitchen has been active in Tsamakia beach, promoting open borders for all humans by providing food to more than 1000 people that passed through Mytilene in search of freedom and opportunity.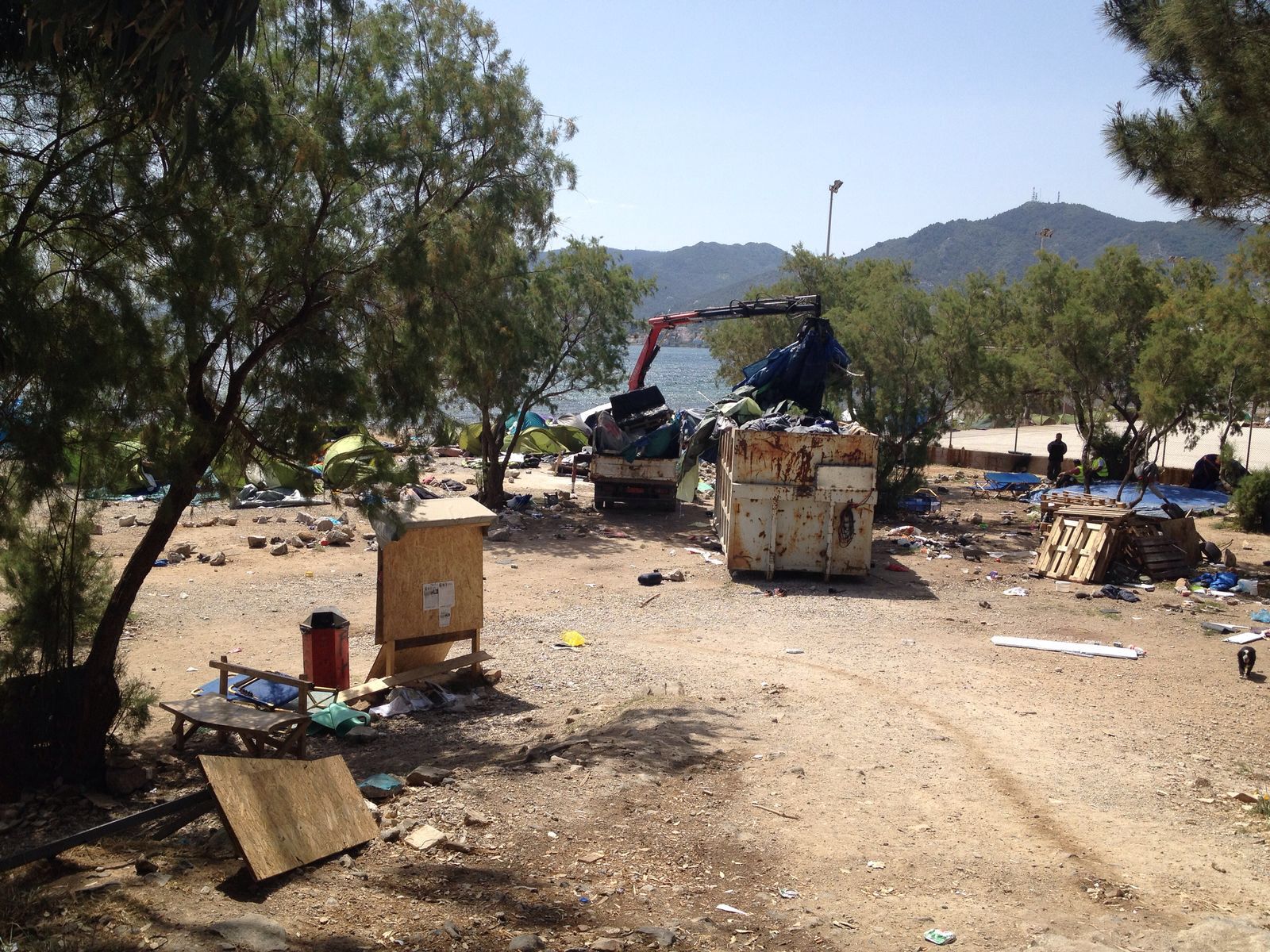 Last month, after Moria, the former registration center became a prison, many people decided to camp around the kitchen in order to enjoy freedom of movement, self-determination and the family atmosphere. Solidarity members have been working, cooking and living together with the migrants in an effort to overcome petty nationalism and racism. NBK also provided legal and medical advice, first aid and supplied humanitarian needs. Destroying NBK camp is part of a continuing effort on the part of authorities to impede and even stamp out the self-organized solidarity movement of Lesbos which has been active in recent months. Police, the mayor and many authority figures have shown prejudice and discrimination against these solidarity activities as is evident in the threats NBK has received with arrests and eviction since it started.
We as solidarity members choose not to respond to the ridiculous and sensational rumors spread by the press which posted a video of a dead dog to influence public opinion against refugees that killing or eating dogs ocurred in our camp. NBK is a vegetarian kitchen that chooses not to sacrifice any life, let alone cherished pets.
NBK will continue to support the refugees in their struggle to enjoy freedom of movement with human dignity.
Lesvos Eviction of the No Border Camp
Volunteers from the No-Border Kitchen were detained on the grounds of collaborating with illegalized Refugees. According to our latest update, five members of the No Borders Kitchen are still being held in custody.
The No-Border Kitchen that has been active on the Island since last year and has been a sanctuary for many people fleeing the otherwise inhumane camps provided by the governement. This decision made by ma
ny refugees of remaining in the No-Borders Camp was in fact a form of protest against the precarious and intransparent situation in the other hotspots and camps.
Todays repercussions of this increasingly tense situation in Lesvos, is something we are all facing in one form or another. The lack of transparency perpetuated by media and government is intentional and something we can only fight if we keep up a solidary exchange of support and information.
FIGHT FORTRESS EUROPE! NO BORDER, NO NATION!
FOR THE FREEDOM OF MOVEMENT FOR EVERYBODY AND EVERYWHERE!
No-Border-Kitchen Lesvos – Urgent Call
The dirty deal between the EU and Turkey did not lead to a situation where people don't dare to cross the mediterranean sea to Europe anymore. Of course not. It just increased the repression refugees have to face once they enter the EU. It facilitated the possibilities of deportation into Turkey, a state at war with its "own" Population. It supports the European Union in its own interest to further divide between people that are allowed  to enter and people that get rejected. There should be no hope for anyone not fleeing from Syria to enter Europe. On Lesvos the impact of these decisions are more evident then ever.
The so called "Hot-Spot" in Moria has factually become a prison incarcerating over 3000 refugees, on very limited space. The first deportations to Turkey have begun without giving the people the possibility to apply for asylum in Greece. Since a long time now the Authorities on the Island are trying to get rid of the people supporting refugees. Registration as volunteer is mandatory, and even supported by some of the NGO's, yet not all. Especially the autonomous and anarchist activists are a thorn in the side of the local administration. The "illegal" camps are constantly under threat of eviction. Forms of resistance are targeted even under Syriza's rule. The No Border Kitchen that has been active on the Island since last year, has received multiple notes of eviction by now.
The camp of the kitchen provides shelter for numerous activists and refugees. At the moment they are cooking for over 500 people every day. It still serves as a last resort to arrive at the Island, to escape from the inhuman situation at Moria, and proves to be a point of resistance against the greek and european border- and migration-regiment.
The No-Border-Kitchen desperately needs your help ! If you have the chance, go there to help out and forward this to people who might be able to provide support !
No Border Kitchen Lesvos update
To start off with a side note, in the previous article we are talking about a 'police rate'. This should have been 'police raid'. Lets say being in the kitchen 24/7, a lack of sleep and rushing to write an online statement took its toll. Sorry for this mistake, and thanks to out comrades from Contra Info pointing this out to us.
The current situation. No police raid! The fascist assholes did not have the guts to show up, or the rumors (which we have many, many circling around the island) that we would get a police raid were false. Anyhow;
Today 2 supporters of NBK, together with our lawyer went to the municipality to explain to the mayor of Mytilini what our demands are. The mayor started off with a statement that he considers himself on a left political side and that he wanted to show us his friendly face. After explaining him the demands of the refugees in NBK, he informed us that he does not have the political power to fullfil our demands. He informed us that we have to leave Tsamakia beach the same day (today, 30-03-2016) were we responded that thats clearly impossible. Afther some bargaining the 'deal' whas made that the kitchen will be gone in a period of 7 days, on 06-04-2016. We clearly informed that we will only remove the kitchen, and let the refugees decide for themselves what they will do, that we will respect there dicisions and fully support there dicisions and keep on supporting them in any way we can.
The mayor put on it black and white on paper, singned and stamped with some official stamp, that he will not evict NBK, send any police, frontex or busses to moria before the 7th of april.
We want to make a clear statement that we (the people of NBK in support with refugees) are anarchists. We want to make clear that we never thought that the conversation with the mayor would have lead to any more positive result of the current situation of refugees in NBK, Lesvos or elsewhere. We do not believe the lies of cops, politicians and those in power, no matter if they claim to be left or right wing, and try to keep our communication with our enemys as minimum as possible. We want to make clear that at the moment we are trying prevent eviction, arrests, transportation to Moria and deportation of our comrades in any possible way. Unfortunately we felt like standing with our backs against the wall, forced to communicate with those who make the lives of our comrades a living hell. We want to make clear that this communication was and will be never our decision, our consent and we will never make the first move to communicate with our enemies.
At the moment it is not possible for us to share with the world what our next steps will be, but an update will follow soon.
For a world without borders!!!
No Border Kitchen Lesvos under threat of police raid and eviction
On the island of Lesvos, where the deportation machine is working at full speed, all the camps for refugees are cleared out and registration center 'moria' has showed the true purpose and is now functioning as an deportation centre, NBK is still standing strong and opperating at full speed
The current situation is that we now host a couple of hundred refugees, who have been hunted down the island by Frontex and police and have no other place to go. The kitchen is up and running day and night to help anyone in need with food, shelter, medical aid and a (semi)safe place to rest, where refugees work side by side with people in solidarity on an equal level. We host, the refugees participate, and together we keep the camp up and daily life running.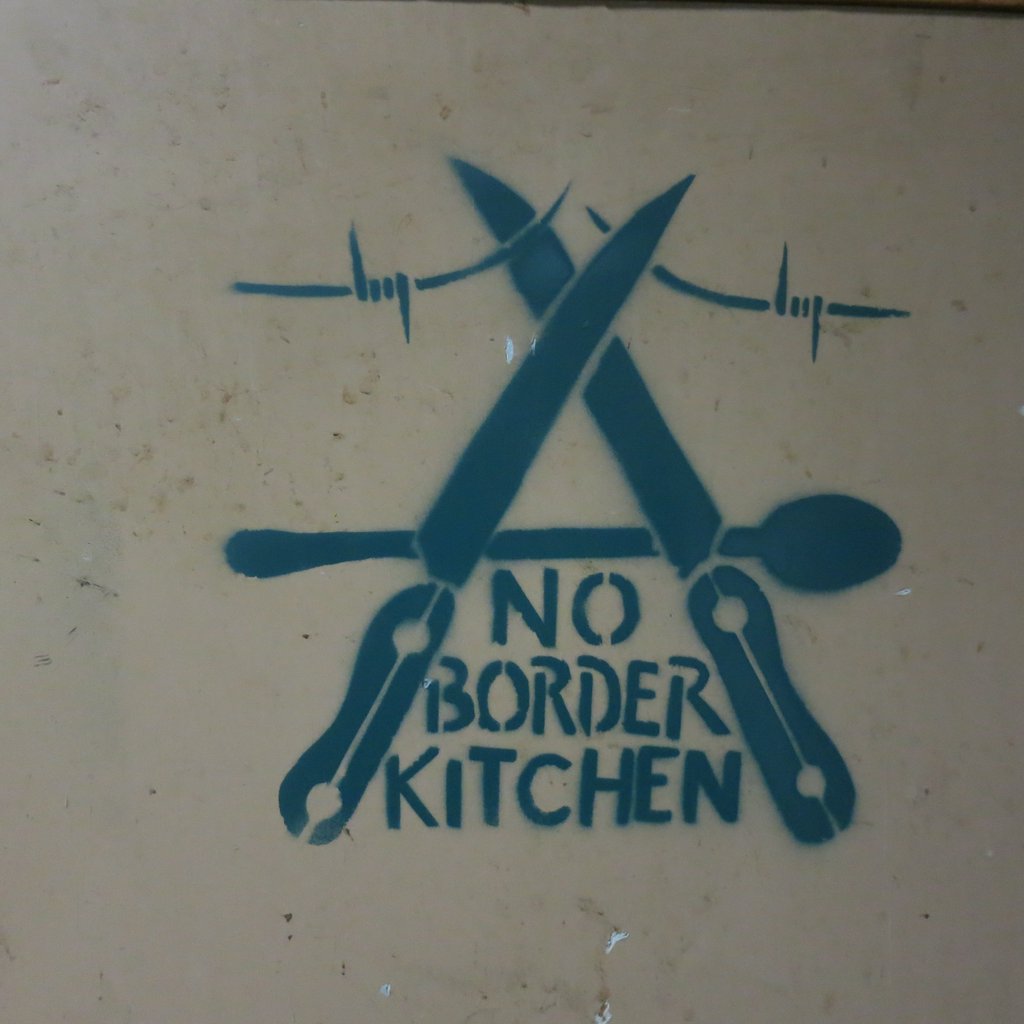 Already rumours were spreading that NBK will be evicted soon, since it's an 'illegal' camp and the last camp on the island where refugees are to be found, besides the unfortunate ones who have been arrested and moved to deportation center Moria (which is still called a ' registration center' by the officials). For days we have had police coming by in small numbers, sometimes checking passports of people in solidairity, sometimes searching people for sometimes drugs outside NBK, sometimes counting the numbers of people in the foodline and taking pictures. Also they started arresting refugees on the road from NBK to the city of Mytilini, which is a huge problem since NBK is on a dead-end road and there is only one way to walk to.
The current situation is that the fascist mayor of Mytilini came by today (29-03-2016) demanding that we leave the beach we have squatted, since there is a contract signed that it will be transferred into a 'water entertainment park'. We are all aware of the fact that this is clear bullshit, since the beach is clearly not big enough for this 'water entertainment park' and that this is just the easiest way to get us evicted. The mayor informed us that within a couple of days there will be busses coming to NBK, for refugees to be transported to Karatepe refugee camp, where they will have freedom of movement and will not be detained. Karatepe is a former UNHCR camp to host refugees from Syria, but all the Syrians have been moved to the mainland. UNHCR left the camp and it is now operated by the army and police (Frontex). Before the refugees can go to Karatepe they will have to (re)register themselves in the 'registration center' Moria, where it's clear what will happen to them. Once they walk in, the gates will close and they will be kept imprisoned, waiting for the transportation to detention centers on the Greek mainland.
Also the mayor informed us that the busses to Moria will be escorted by riot police, to force every refugee into the bus who does not want to get in by themselves. He invited 'us' (people in solidarity with refugees) to go to the building of the municipality of Lesvos tomorrow (30-03-2016) at 12 o' clock to tell him how many refugees we host in the camp, how many will get on the bus to Moria, and then expect us to pack up the kitchen and leave.
We will go to the municipality, but for different reasons. We will tell the mayor that the refugees have demands before they will go, and if their demands are not fulfilled that they will not cooperate and will fight for their freedom, since they are trapped on this island and have nothing left to lose.
There demands are:
 If NBK will get the possibility to be relocated, if it's truly only about the location being developed in the future.
The refugees will leave from NBK to Moria only if they will get represented by a lawyer personally or in small groups.
They want translators.
They will not be detained in Moria or Karatepe.
They will have the right to apply for asylum directly once they have entered Moria 'registration center'.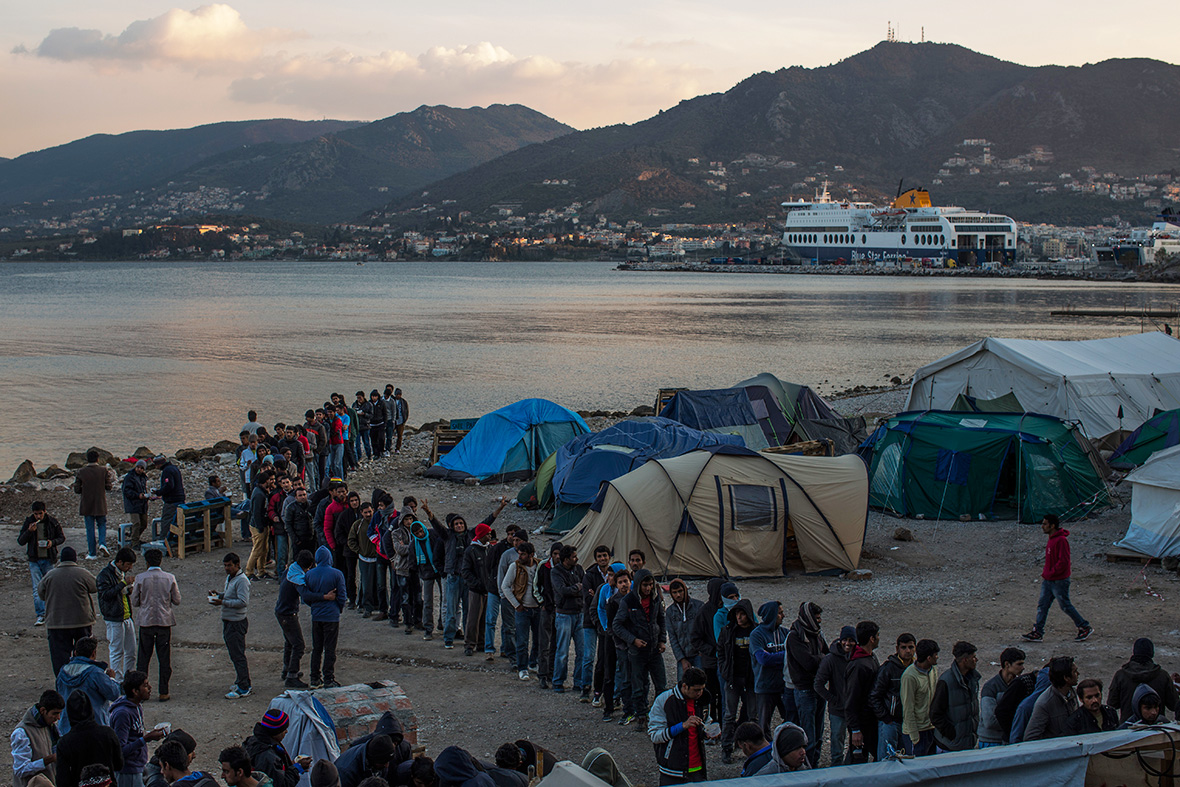 Also, we got the inside information that tomorrow morning (30-03-2016) the police will do a raid on NBK between the time of 5 and 9 in the morning, to look for drugs and evidence that we make false papers for refugees so that they can enter the ferry (only nationalities of Syria, Iraq and Afghanistan are allowed to enter the ferries to the mainland, the rest of the nationalities get arrested in the port if they try to enter).
It is clear bullshit that both drugs or devices to produce fake papers will be found in NBK. We wish the police lots and lots of fun searching every corner and all the tents on Tsamakia beach to find this!!!
We will be waiting for them!!!
Unlike camps like 'Better days for Moria' and others WE WILL NOT advise refugees to hand themselves over to Frontex/police at Moria. We will only provide them with information about the current situation, leaving the decision what to do to them and support them in their decision.
FREEDOM OF MOVEMENT FOR ALL!! FOR A WORLD WITHOUT BORDERS!!!
FOR SOLIDARITY, MUTUAL AID AND RESPECT!!!
And for those who are still awaiting the hell of a journey from Turkey to Greece by sea maybe the most important;
FERRIES NOT FRONTEX!!!
Call for support and detailed report from NoBorder-Kitchen on Lesbos, Greece:
16.01.2016
"NoBorderKitchen at Tsamakia-beach, Mytilini, on the island of Lesbos, urgently needs support with helping hands. These days app. 10 refugeeboats arrive to our Beach at Tsamakia per day. Our crew is the only one, that receives the refugees arriving also at night. We are needed at this place!"
"the kitchen has expanded to a camp, the amount of tasks has over-passed our capacity in this moment, some shifts can't be fulfilled, some people are overworked. The tasks at the moment go far beyond cooking food and we have harsh weather conditions. Even though we try to establish and develop nbk-cooperation with local groups, supporters are always needed."
"we are actually in need of people who are committed to stay longer and in order to be able to continue the existing structure. individuals who stay shorter are always welcome as well of course!"
A closer view on the work of the NoBorder-Kitchen is given in this report:
In December the NoBorder-Kitchen has moved from the streets of Mytilini to Tsamakia beach. This is one of the places where the dinghies from Turkey arrive. We are able to offer tea, a hot meal and dry clothes, and a place to stay, to travelers as soon as they disembark; above all, we are able to welcome them in an atmosphere of friendship and solidarity. Upon arrival, persons first go to register at the official Moria camp. They often come back to us to wait for the ferry or spend the night.
The main part of the camp are persons from Algeria and Pakistan. The former cannot exit the island due to the new racist EU directives, according to which those from Morocco, Algeria and Tunisia are not even registered, which means they cannot buy tickets for the ferry. Some have been stuck in Lesvos for a week now, with no prospect of improvement. The latter are stuck for economic reasons – the ferry ticket being 60 Euro (whereas the normal, tourist ticket costs 45,50 Euro). Besides, the camp is inhabited by people from Syria, Kurdistan, Afghanistan, and Morocco.
Daily, several dozen people spend the night here, and this number is gradually increasing. During the day there are many more people passing through.
We prepare hot meals at least three times a day, we have tea, coffee, stable access to water, and solar panels to enable charging mobile phones. We have built a toilet and are now working on a shower and wi-fi. We also have a large storeroom for clothes, tents and sleeping bags for every person who decides to stay with us for any amount of time.
Every day we search for and find new solutions to make the camp's infrastructure more efficient. Everyone who stays with us feels equally responsible for the place. Solidarity and equality is essential here. Whatever we do, we do it together. Together, we chop vegetables, clean, cook, and provide support for those who step off boats. Despite our modest resources, many come back to us from Moria due to that atmosphere of freedom and mutual respect. This is undoubtedly the most joyful camp we have seen during our stays in the Balkans. The lack of repression system components such as police, fences, and charity makes those arriving into Europe feel actually welcome. In the evenings, after a long day of work, we gather around fires to listen to songs and to talk.
The solidarity in Algerian people's attitude has earned our utmost respect. In spite of the growing frustration, they are the first to find themselves at the boats with emergency blankets and hot tea, or at the table where some massive chopping is taking place. We also experience great support by local independent initiatives, squats such as the 3-year old Pikpa squat, and individuals. They're the ones we can always count on to provide help in blankets and tents, food reserves, or another pair of hands at work. Every day there's someone to bring us food or clean clothes
This solidarity-based approach enables us to work without major interruptions, 24/7.
The authorities' attitude is quite different. Apart from the beach, we have also taken an unused sports field nearby, so as to be able to store and dry off clothes, blankets and sleeping bags. At the end of December the municipal authorities, accompanied by police, told us to empty the field, claiming that the area is private and pretending to be its owners. Only after relocating the storehouse, we learned that this had been a lie intended to quicken our gradual eviction. Apparently, the authorities will not hesitate to use any method whatsoever to stop those who support migrants by creating friendly places which are not part of the repression system envisioned by the EU governments. The greek rescue-camp "Platanos" in the northern part of the island, which had been working efficiently for a few months now, has been in serious danger of eviction in recent weeks.
We want to keep the camp going all the winter and longer, so financial support is needed all the time, as well as helping hands.
solidarity greetings!